Courtney Ramos-Fincher is carrying on her family's legacy by serving as president/CEO of A.R.K Ramos Architectural Signage, a company her grandfather founded seventy-five years ago.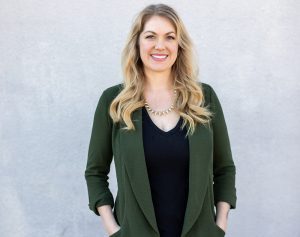 Running a company is difficult, but running a family business can be even more complicated. Ramos-Fincher admits she struggled for a long time with imposter syndrome until she remembered something a professor once told her, "You may get the job because of your name, but you keep the job because of what you can do."
Today Ramos-Fincher has grown securely into her role as the head of A.R.K. Ramos where her day-to-day work includes maintaining all aspects of the business—sales, quoting, customer service, production schedules, and financial decisions as well as envisioning what's next for the company.
Ramos-Fincher's main focus, however, is the well-being of the company, which she says is directly correlated to the well-being of its people.
That attention to wellness became even more important when the pandemic began over a year ago. Ramos-Fincher says that the company was able to avoid massive layoffs and actually has more employees today than it did in 2020.
What has changed is the number of projects. At the start of the pandemic, A.R.K. Ramos kept busy with jobs already in the pipeline. Now, the company finds that many clients are hesitant to start new projects due to lingering uncertainty and fear about the market and economy.
We spoke with Ramos-Fincher about how she tackles challenges like these as well as the advice she has for other women in the sign industry.
You've served as president since 2014. What are some of the challenges of running a company?
Forgetting to work on the business instead of in the business. As president, you're expected to have all the answers, and it's scary when you don't. The pandemic was so uncertain, and that's not a feeling I am comfortable sitting in. I have to have a plan, make a plan, and enact a plan.
What are some changes you've made during your time as president?
Being a seventy-five-year-old business that has existed in the same space for all of those years makes maintenance a large part of our everyday life.
We've air-conditioned the entire plant and replumbed our natural gas piping—all in conjunction with keeping an eye on the latest and greatest. For example, we made upgrades to Web-based programs to allow sharing of documents instead of a bulky networking system.
We've also focused more on efficiency and waste reduction. Every department tracks their production so we can more easily identify (and correct) bottlenecks. We track production down to the square inch.
Comparing departmental material usage allows us to find waste. For example, we may find that one department is ordering more material than the other for the same amount of completed pieces.
I've also had to get better at having difficult conversations about salary, job responsibilities, expectations, and reality.
In addition, I've placed more emphasis on the well-being of employees. We have monthly food trucks, better maternity/paternity leave, and more flexible PTO.
We've also improved and increased communication from management to the entire plant—not just from management to the foreman and then to the employees.
Any advice for other women in the sign industry?
Be secure in knowing your gender and your life experiences have value within your company and industry. We shouldn't compartmentalize our lives. What we learn at home/with kids/in life is valuable at work.
— Ashley Bray