Women Leading the Industry (WLI), an initiative launched by the International Sign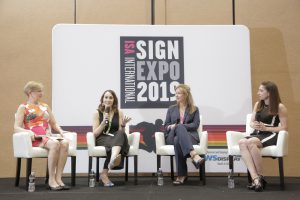 Association with Sign Builder Illustrated, had its kick-off event at the ISA International Sign Expo on April 26 with the panel session "The Female Leader: Passion, Empowerment and Confidence."
The networking breakfast drew a capacity crowd with over 200 registered for the session. Attendees spent the morning networking, participating in roundtable discussions, and hearing from three women leaders in our industry in a panel discussion moderated by Sign Builder's own Managing Editor Ashley Bray.
Missed the session? We caught up with the three panelists—Betsy Ewart, national sales executive, Pattison Sign Group; Taylor Blanchett-O'Donnell, corporate services manager, Blanchett Neon Ltd.; and Lori Anderson, president & CEO of ISA—to talk leadership.
What is one characteristic you believe every leader should possess?
BETSY: Authenticity! A leader who possesses a natural ability to be genuine captures the trust and following of her team. Be real, be yourself, and be confident in who you are. [When the] actions of a leader align with what they say, it shows a side of vulnerability some leaders are sometimes afraid to show. There is a perception in business that emotions and/or lack of emotions equate to strength. There are situational circumstances that are better when emotion and compassion are part of the leadership equation.
LORI: One characteristic that I believe is crucial to any leader is the ability to facilitate others in complex decision-making. Leaders typically make decisions numerous times each and every day. But the capacity to help others in making important decisions is highly, and arguably even more, important. Leaders who can guide groups in working through tough challenges, rather than making all decisions unilaterally, also results in unifying the team around a common purpose and mission and typically creates richer, more meaningful results. I encourage current and emerging leaders to take facilitation courses or study the techniques of others. This skill can make a tremendous difference both professionally and personally.
TAYLOR: Everything starts and ends with a clear vision for the future and passion or a belief in what we do to see that vision through to completion. The ability to communicate and live the "why" behind our work is what attracts the very best of the best to our organizations, and our passion is what keeps them. How we work is the (relatively) easy part, but to truly set our businesses apart in an increasingly competitive market, we need to engage our teams to do more than just walk-the-walk.
What's the best piece of advice you've ever received?
BETSY: Nothing is forever! Each segment of life, whether personal or career, is part of your story. The tough times and even the good times do not last forever, but each opportunity to learn or grow builds your foundation stronger. The experiences matter and allow you to pay forward the advice and empathy, as others share their own struggles or successes. Cherish the opportunities that come your way, and take the chance to try something new if it feels right
for you.
LORI: An ISA Board member told me, early in my tenure, this piece of sage advice: Asking for help is a sign of strength not of weakness. Often people in the position of leadership feel a need to prove themselves, and this can translate into going it alone. Seeking the help and guidance from others has helped me get through some challenging times.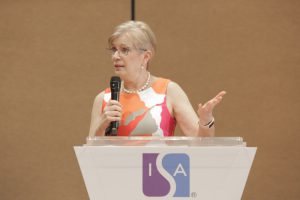 TAYLOR: When I first joined our family sign shop, not only was I young and female but having your last name above the front door is a different challenge entirely. The best advice I ever received came from my father, who had previously gone through a very similar situation: Do your work to the best of your abilities and ignore those who don't see your value or assume you're in a position based on your name. Focusing on completing your duties and what is within your control is really all you can do. Your efforts will be recognized and acknowledged by those who truly matter, and your worth will speak for itself.
Who are some of your role models?
BETSY: I have had various role models throughout my life, including my parents who always supported my every whim to try new things. In the public sector, I have two role models. Michelle Obama conveys a level of confidence and happiness that would appear to be contagious. She seems to light up a room in even the soberest of settings when she has been in the press. Another one of my role models is someone I've taken interest in of late, Ruth Bader Ginsburg, due to her many documentaries and books. What an inspiration still going strong! She has seen so many challenges through not only for women but as a country, as expectations of society have evolved.
TAYLOR: As a female working in a male-dominated industry, I have always been drawn to and have tried to model my career after other women in similar roles. Mindy Kaling and Tina Fey have found, maintained, and championed their own voices in rooms that are predominantly male. Serena Williams and Beyoncé are relentless in their pursuit of excellence and do whatever it takes to stay at the top of their game. But most importantly, my parents have always worn their values on their sleeve and demonstrated what honesty, integrity, and teamwork look like in action, and I couldn't be prouder to continue that legacy.
For more news on WLI events and women in our industry, visit signshop.com/wli and signexpo.org/womenleading.